Honda Elysion in-depth review of : The King of MPV
Recently crowned as the King of MPV by a Japanese motoring magazine that gets the highest marks on owner?s satisfaction, cost of maintenance and the resale value. Elysion is premium MPV and not available through the Singapore?s Honda authorized dealer. However, thanks to the pararel car-importers we can now enjoy this superb product in Singapore.
The concept.
This MPV was first seen as a concept car called Honda ASM at Tokyo Motor Show in late 2003 and finally made into a production half a year later with some cosmetic adjustments to its headlight, front grill and interior to make it more commercially friendly. Officially launched in mid/late 2004 for Japan domestic market, Honda Elysion, which derives its name from Greek mythology, loosely translated as a ?pleasing/comfortable place?, mark an important history for Honda to show off their finest technical know-how and all round safety, ecology and human comfort.
Design.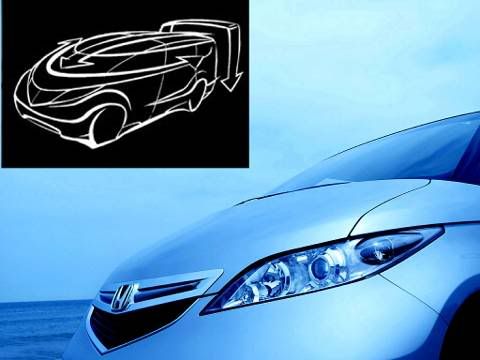 Out with predicted normal lines, the oval shaped body which is inspired by nature sculptured carefully to minimize hard edges resulting of low wind noise and low coefficient drag, possible the lowest among all of its rivals and may in-fact put to shame some of the smaller sedans. The low cd also contributes to better fuel economy and overall stability.
The interior wrap all round with well thought after luxury materials combined with a soft and light soundproof material makes the cabin eerily quiet once you close its doors. However, all this extra luxury contributes to the total weight, which is around 1800kg a far cry from a bare minimum found in Honda's mainstream models.
Although the car may look large, the actual dimension is actually modest. At 4840 mm, the length is actually the same as the 3.0L 2nd generation Odyssey RA6 or about 1 cm longer then current Camry. The 1830mm width is about 3 cm wider than the RA6 or about 2 cm wider than Camry. The different is on the clever space management making 70% of total space available as cabin plus the height of 1790mm, which is an extra of 18 cm from RA6 or about 24 cm more than the current odyssey. This extra height puts Elysion seating position high, or about the level of Harrier SUV and plus a very enjoyable roomy interior that can seat 8 adults in total comfort.
Safety.
The combination of a new 30% stronger high rigidity steel, the Honda G-Con technology and the unique double platform with low central gravity floor, first seen on Merc A-class, makes Elysion (one box car) to achieve the highest
6 stars
rating by Nasva and become one of
the safest
Japanese passenger car production ever, even higher than the competitor's luxury three-box (hood-cabin-boot) sedans.
The high safety percentage translates to how well the car protects its driver and occupants. An extensive crash report is available at this site
http://www.nasva.go.jp/mamoru/english/2005/type/20_elysion.html
and comparison by different models and brands at this site
http://www.nasva.go.jp/mamoru/english/2005/as105.html
The high rigidity body also benefited to the overall comfort as the car handless any rough roads with poised, free of squeaky found in many older Hondas
The top of the line VZ model is equipped with an IHCC (intelligent highway cruise control) and CMS (collision mitigation sensor) that works with radio-wave radar installed in the front grill to warn driver if he or she get to close with the car ahead and the seatbelt automatically tightening and brake ready, similar to the pre-cash system in the S-class. Interestingly the radar can be double as night vision (a similar concept to the infra red night vision introduced in BMW) as it gives picture in a form of graphic of objects ahead displayed on its built in 8 inch navigation system at the dash.
Other safety equipments include ABS (anti-lock brake), VSA (vehicle stability), TCS, sideslip, and AFS (adaptive front lighting) on its projector HID Xenon headlight.
Engine and Brake
Two choices of engines are available. The 2.4L i-VTEC K24A that is used in the current Odyssey produces about 160 horses and 22.2kg-m of torque. With virtually the same specs and gear ratios, it behaves and drives very similar to the current Odyssey and sips about 10,2 km/l in 10-15 Japan standard test (3 times variable city driving stop and go and 1 time highway driving with 120kg extra weight of two passengers and without a/c).
The compression ratio of 9.7 couples with an anti-knocking sensor and intelligent timing control makes it easy to take RON 95 grade. A similar 2.4L engine but with different overhead and higher compression ratio of 11.0 that produces 200hhp that is used in Honda JDM Odyssey Absolute is not yet available at this time for Elysion.
The other is all new 3.0L V6 i-VTEC J30A incorporates the finest engine technology not seen in other brands yet. The unique <b>VCM</b> (variable cylinder management) behaves like a hybrid able to shut-off 3 cylinders on one the V6 bank when the engine senses that there is a little need of power such as during cruising and downturn. It changes between 6 and 3 cylinder modes virtually effortless without any vibration whatsoever. The only tell-tale sign that the engine is running on 3 cylinders is when the ECO green light at the panels light up.
Unlike the lower-powered small electric hybrid it has 250 horses and 31.5kg-m of torque under the hood ready whenever needed. The power curve delivers in a linear progression without any blank-spot torque as in it 2.4L engines. This advance i-VTEC engine pulls eagerly at any rpm with an extra surge/boost ala turbo comes above 4000rpm when the second cams setting kicks-in with its an intoxicating power all the way toward the redline.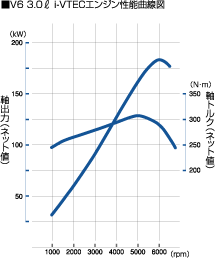 A power ratio of approx 138hp per ton is enough to propel this car 0-100km/h under 8 seconds placing it in rank with serious sports oriented cars. The great engine matches perfectly with a great suspension and high-rigid-tensional-steel body makes this 3L Elysion not your next-door granddaddy boring MPV.
With a compression ratio of 11.0 it requires premium RON 98 fuel grade (or RON 100 when available) to tap its fullest potential. A regular RON 95 will set the engine 10% less powerful but with no persistent knocking as it has an intelligent timing and anti knocking control. It drives and switching gears extra smooth and sipping fuel at a rate of 9.8km/l or about the consumption of normal 2.0 to 2.4L engines. In highway driving it can even go as high as 15-16km/l putting smaller 1.5-2L family sedans as its fuel-sipping rival. In short this engine is a
real gem
.
VCM actually evolves from GM concept 8 cylinders engine that able to shut 4 cyl but perfected by Honda with virtually seeming-less and vibration-less. It is a pity that this J30A engine is available only for Japan domestic model and not in our local Thai-made 3.0L Accord. Note: A larger 3.5L V6 300HP engine with VCM that is already fitted on Legend and US-made Odyssey will be available in Japan starting September-October 2006
In all models, Elysion comes with large ventilated 4-disk ABS+EDB brake. It stops the body effortless and the overall braking power is excellent.
Trim and specs
Basically there are 6 different trim and grades plus 2 special AERO HDD editions, which is a value buy. Three grade of 2.4L front-wheel-drive models available namely M, G and X with 4 wheels-drive and well-fare car as another option. There are also three 3.0L fwd models namely VG, VX and VZ and 4-wheel drive and well cab as another option
All the six trim comes with long list of luxury standard equipments such as HID Xenon projector light, dual airbag, EDB+ABS, 16 inches aluminum wheel, 215/65 R 16 Yokohama Aspec tyre, a plush and comfortable triplex row seats with easy folding 6:4 configuration, 5 speed auto, UV-cut glass all round and dark privacy glass that confirms to LTA specification makes it unnecessary to install the after market film. Eight individually adjusted interior lights greets whenever door unlocked faded softly in the background when the entire door closed.
The original key supplied with an embedded RFID chip (radio frequency id) that communicates with the onboard computer, where without it no power will be supply to the cars engine and starter. A keyless security alarm with remote is standard equipment while the touch-less smart card is an optional.
A speed sensing door-lock automatically locks any of the unlocked doors when the car moves above 15km/h and automatically unlock when the gear lever switched to P (park). The speed sensing rain-wiper wipes the glass automatically whenever the car starts to move in the rain ensuring that the driver always have clear view ahead. An intermittent mode that automatically becomes continuous when it senses the car on the move and adjusts back to intermittent during idling. The rear wiper also wipes automatically for you when the gear switch to reverse during rain.
The world first super-three-dimensional luminescence meter welcomes you by lighting up the outline when you open the door and becomes brighter when it senses the security programmed RFID key inserted. The meter has a very interesting one-of-the-kind combination of luminescence optitron-like-meters and 3D holographic blue illumination giving the illusion that the meters are sort-of suspended in the air in-between the bluish background and LCD info-display (temperature, trip, fuel consumption bar, doors, etc) in front, a real feat for the eye. The
secret
of the 3D effect lies on the blue light projectors installed on the top panel, out-of-sight unless you bent down and see it from below. This is a similar to the holographic-navi-system in the high-end BMW models.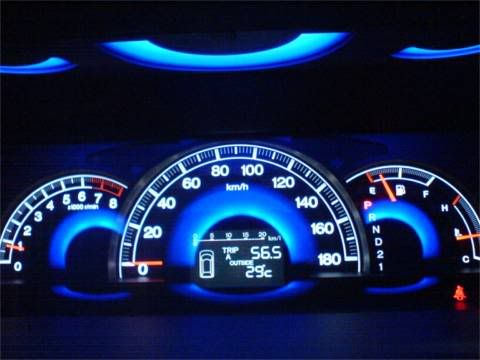 All the necessary buttons placed strategically, classy, clean and ergonomically, all within an easy reach and sight to ensure that the drivers do not need to take his/her eye off the road. The ergonomic at best where the driver can simply rest his or her elbow in the armrest while the hand fiddling with the a/v-commander buttons and the gear lever.
The top quality piano-lacquer wooden panel is integrated nicely to the dashboard and to the door ooze a luxury as it comes in a big whole panel not the skimpy thin strip add-on found in many others.
All four windows equips with one touch power window with auto sensing safety feature. Dual and triple zone climate control allows passenger and driver to adjust the climate separately between left and right. An intelligent sun-sensing A/C adjusts the cabin temperature to its surrounding
In addition all the 3.0L models VG, VX and VZ trim come with illuminated steering button cruise control, dual large exhaust pipe, V6 logo, VCM (variable cylinder management engine), active engine mount to reduce vibration, active noise control, twin silencer and DBW (drive-by-wire) throttle control. This DBW system when used with the cruise control can help save fuel as the ECU will calculate the most efficient fuel vs speed in oppose to self drive.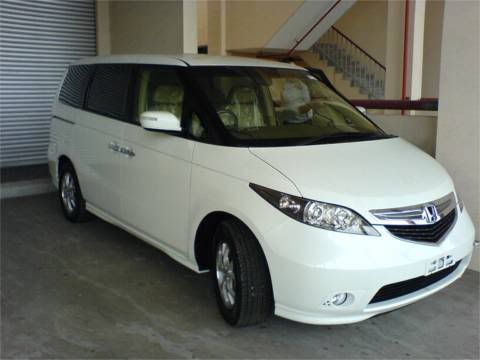 In addition to standard equipments there are factory fitted optional equipments and dealer fitted equipments to choose. Factory fitted equipments are:
1. AM/FM CD set with 6 speakers, 26,500 Yen
2. 8 in LCD navi system with dvd, tv am/fm, reverse camera, bluetooth, voice command and 30 GB hard disk drive to store data and av. 315,000 Yen
3. Premium Sound, which add 50w x 5 ch amps and 12cm (5 ? in) subwoofer under the fronts seat.
4. Roof 8 in LCD monitor
5. Smart card which automatically lock and unlock when it sense the card-master nearby without pressing any button and start the engine without a need a key. 73,500 Yen
6. Dual power doors passenger left and right for G trim and above, opening and closing the back door at the touch of a button or handle. 65,000 Yen
7. 2nd row rotating seat. 36,750 Yen
8. Triplex climate control in addition to dual climate control as standard, add air outlet in the 2nd and 3rd row floor. The dual control means you can separately adjust the temperature between driver and passenger. Rear AC is a standard. 31,500Yen
9. 17 in aluminum wheel and 60 in profile tyre.
10. Two motorized glass sunroofs
11. Leather seats
12. Side airbags
13. Power tailgate with remote and buttons
14. VSA (veh stability) +AFS (adaptive front light system). 126,000 Yen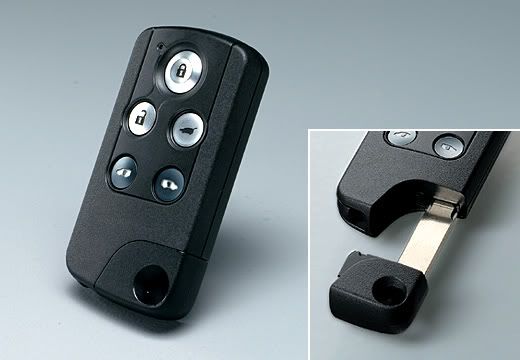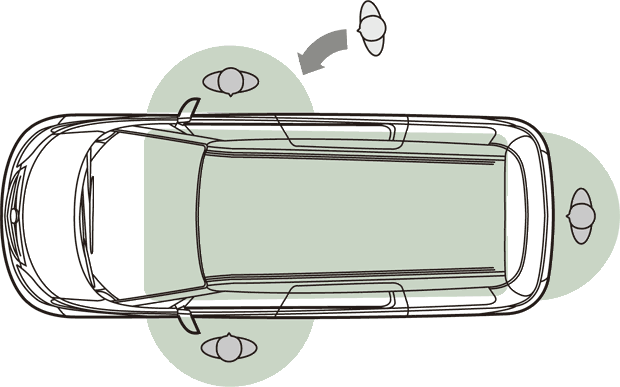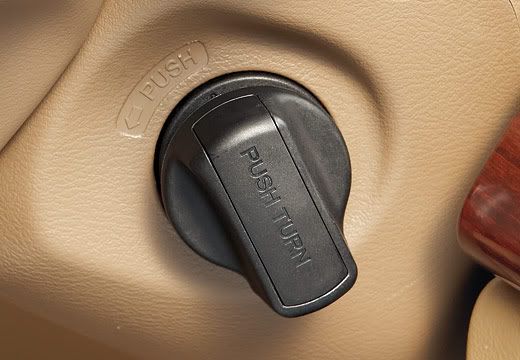 The essence of the keyless-go or keycard or smart entry or smart card system (or whatever they call for), essentially a battery powered RFID chip, is to give total freedom for the owner. With it hidden on the pocket or bag, one just touches the handle of the door and it will automatically unlock. Once inside, just start the car and drive without any need of key. After driving just off the engine, step away and it will disable the engine, lock all the doors and activate the security system by itself.
Without the smart card, one can override with the supplied key, which is essentially a non-powered RFID embedded key to operate manually as usual. The onboard computer will only work when the metal portion of the key inserted. It is not easy to duplicate such key. Loosing it means has to refer back to the manufacture for spare. Only manufacture has the code and the tool to re-program it.
Honda's smart card system, gives a soft beep when one step out and close the door. While stepping away, it will notify the owner by two beeps and flashes when it locks the door. Should there is any error, such as stepping out without properly off the car or door unsecured, it will notify by rapid beeps, sort-of calling the owner back. Unlike the BMW system and at some other conti cars, there is a button inside to deactivate the smart card system temporarily so One no need to break the window if anyone locked inside. The beep is not loud to tell everyone for your presence. It is just enough for the owner to notice it. Using the supplied remote to lock and unlock will not give out any beep, only flashes. This beeps can be adjusted to one's preference (according to the JDM manual). However one must refer back to Honda for such. Even with the smart card system, One can still wind down or ups all the windows at once via the supplied keyless remote control.
Click on this site
http://www.honda.co.jp/auto-lineup/elysion/equipment/index.html
to see more of the equipments available
Dealer options includes, Body Kits, more aluminum wheels, interior led lights, more wooden panels, leather and wood steering wheel, back mirror, side front camera, radio-wave corner sensors, fog lights, trays, lush and soft tailor made carpets, child seats, etc.
All the optional look simple and straightforward enough to order? You could not be more wrong. Yes, one can choose to fit any dealer options in any of the six trim grades. However, ordering factory options is wholesome affair. Some options are only available to a certain trim level and often bundled automatically with other options. It is a chore and inflexible due to the Honda auto configuration system! For example the VSA+AFS and smart card tied up with Navi model meaning you cannot have it with a standard am/fm/cd configuration. Choosing and double sunroof means you have to give up of the option to have auto tailgate.
In short the buyer cannot just simply pick and choose the options he or she wants without incurring additional costs of auto inclusion equipments. One odd situation is the top-of-the-line VZ model does not come with sunroof as an option.
This oddity is one major stumbling block for Honda as they are learning to serve the premium market similar to Lexus. The buyer of the premium product especially the top of the line model normally wants all the optional equipments fitted as well. By forcing their buyer to accept the inflexible prefixed options Honda looses many potential buyers and fat profits. To make sense and trying to understand this oddity, I search Japanese users? opinion in the net, keeping in mind that this car is actually made exclusive for Japan Domestic market. True enough, even Japanese are complaining of this inflexibility.
With a punitive tax 130% in Singapore choosing the right trim, optional equipments and price level is important. The navi-option is rather popular in Japan as it is often tied with other equipments. It includes dvd, cd, am/fm, tv, reverse camera and 30GB hard-disk. The HDD allow user to record av and will automatically record any cd inserted. So next time user can recall it from the system without inserting the same cd. All is controlled in the panel with a central commander button ala BMW. One draw back having the Navi option in Singapore, apart from its 315000Yen plus 130% tax, is that the system built-in with Japan map and in Jap language only. The system itself is proprietary not on window platform so rendering it virtually useless outside of Japan. The Navi shows that the car is on the sea once it goes outside Japan.
Another problem is the clock of navi model synchronizes with GPS system, so the clock is always 1 hour late in Singapore. Imagine that if you are rushing for meeting like mad and finding only to find out that you are one hour earlier
You can manually adjust the clock but once you start the car the system clock will synchronize with GPS? clock again.
The navi option also comes with voice command when you can turn on a/c etc with just saying into the mic near the steering wheel. Unfortunately you may need to learn Japanese to operate this and the rate of error is rather high even for native as reported. The navi model also comes with 3 free Jap domestic call 24 hours connecting to Honda directly (ala Lexus) which is useless when it goes outside of Japan
Beside the navi model, the am/fm cd option is more appropriate for Singapore (if it available on the trim level you specify). It has an aux input line between the front seats making it a very useful to listen to gadget like Ipod, mp3, dvd player, etc. The sound produced by the standard system with 6 speakers is already very good comparable to aftermarket mid to high-end system. The high pitch (treble) comes clean from the pair of concealed tweeters in front dash and a tight bass and mid range from the four 6-inch speakers on the sides. The navi-less model has no clock problem as it can be adjusted manually.
The audio-less model (less 26,500Yen) has no audio and speaker system, no clock, no integrated glass antenna and no audio buttons in the steering wheel. A protruding a/v box on the dash ala local odyssey and a small covered pocket replaces the original audio buttons and screen, which I personally find ugly.
In total, there are about 189 trims production codes with prefixed optional equipments. <b>Yes..,</b> you read it correctly, 189 in total production codes starting from 1N040 for audioless M, 1N041 for audioless M <b>with</b> 17 in wheel, then 1N140 for G standard, 1N14A for G with smart card and dual power door, and so on.
These production codes are not available in the net. It is separated from the main catalogue in a form of small insertion with all the ordering codes and dealer options. Almost all Importers/dealers that I visited, but one, whom I meet during my window-shopping, did not want to show this insertion page
Worst, many of the sales-persons do not even know of these coding and equipments level and did not bother finding out more as it is in Japanese. Some just shrug it off and say it is too complex ordering Elysion and started their sales pitch into their ready stock cars
tsk tsk tsk
Handling?
Though the car is 1790mm tall, amazingly Elysion
does not
suffer from body-roll or floating sensation during high speed cruising and hard cornering unlike its competitors from Toyota and Nissan. It eats any corners just like a sedan bearing the signature of superior Honda?s car handling. Thanks to two very important factors implemented well by Honda which is low gravity body and the superior patented suspension that derives from Honda?s experience in Formula1. The wishbone suspension is sort-off interlinked between left and right mounted to the chassis and functions like a large stability-bar (brace-bar as in racing car) with some tuning for comfort. This system minimizes body roll during cornering and improves the car?s stability significantly. The overall ride is best described as ?sporty-comfortable? not overly soft nor hard.
The car has some speed security features set by the factory to adhere to Japanese regulation. This includes a max speed of 180 km/h where the ECU will cut off fuel supply and the car cannot climb any faster although the car is more than willing. At 140km/h the engine registers around 3000rpm only and possible to comfortably cruise in economy mode. To reach 180km/h is easy as the second cams (lift) setting kicks-in above 4000rpm to push the car toward the red-line. Once it settles at the 180km/h, the transmission shift from 4th to 5th and the rpm drops from 5000 to about 3900rpm only.
The other speed security is the cruise control that is set to max around 110km/h. So if you are running 140 km/h and set it to cruise control, the speed will slowly drop to 110km/h to adhere with the regulation. Not a bad thing actually
Fuel Compsumption
The ability to shut-off 3 cylinders on one of its V6 bank in its 3.0L engine contributes greatly to fuel economy. A concept of two 1500cc engine does work wonder in giving power and fuel saving. During a lazy cruising in the highway it gives as high as
18km/l
(just like a much smaller Honda Jazz), while a stop and go short distance city driving with occasional pedal wrenching will set it back to around 7 km/l. When driven like a mad hooligan, meaning whacking full throttle from one red light to another red light few meters away and constantly on the short distance stop and go situation from one car park to another and idling while waiting it returns around 5+ km/l (just like 2L Subaru STI). However unlike others once you get into the freeway settle at the speed limit when it automatically goes into an eco 3 cylinder modes, it average up the fuel consumption fairly quickly.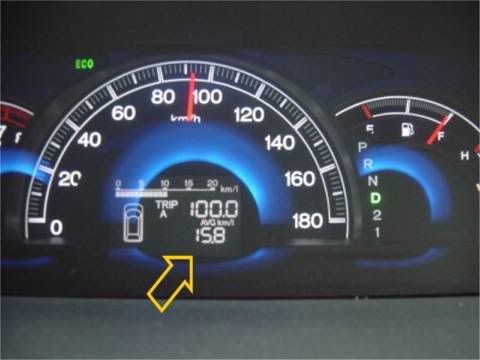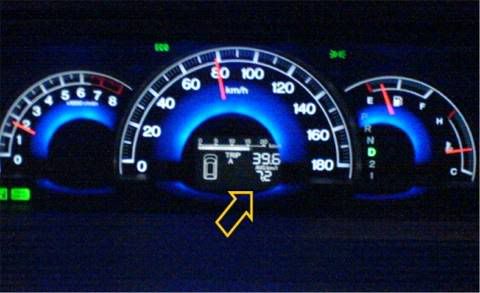 The combination of 250hp and good gearing enough to move the car quickly with a just a gentle pedal-push while the 5th overdrive-gear hums the motor lazily at around 1800-1900 rpm during the 90km/h cruising at our local expressway.
With my usual driving pattern of 80% city and 20 % highway on average I get around 7 to 9 km/l which is pretty close to the official FC figure of 9.8km/l. In occasion where I drive 50% highway and 50% city I get around 11 km/l. In some occasion where I travel easy between east to west approximately 80% highway and 20% city I can get around 14-15km/l. The fuel meter is slightly above the half mark when the car accumulates 500km. With 70-liter tank the Elysion can last to 1000km in one fuel tank. It can do so without a big hu-ha as what local motoring magazine always bragging about the future car?s technology with 1000km per-tank benchmark. Obviously the benchmark is neither new nor futuristic for Honda. The 3L Elysion with VCM technology has done that for more than 2 years.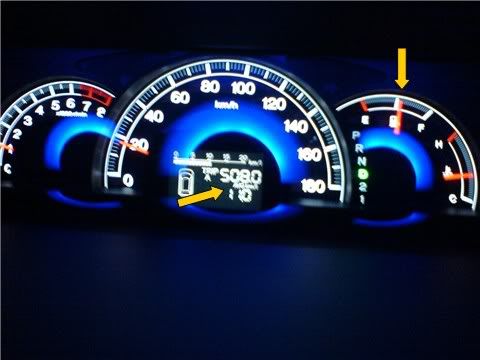 However, the FC varies greatly depending on the driving habit and pattern. Push hard it drinks more. Drive leisurely than it is a miser on fuel. A bad habit like leaving the engine on with blasting a/c while waiting will not save any fuel. It drinks like any 6-cylinder engines at idling and the eco mode 3 cylinders does not engage as it wants to maintain the poise and vibration-less of V6 engine. So a constant stop and go city driving without highway cruising will not give much saving on fuel.
As comparison, the FC (fuel consumption) of my previous 2.3L Odyssey is between 6.2-8.5km/l for city and 10-12 km/l on highway. The 3L Elysion?s FC is 10-20% better for my driving pattern. It is a delightful treat indeed, as the car is bigger, heavier and with a larger engine.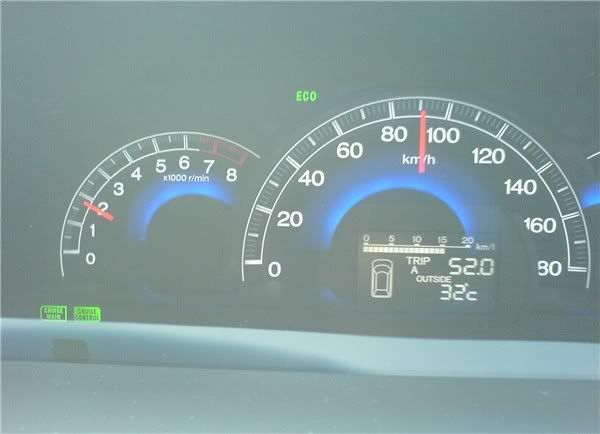 If any production large car in the world (with an exception of the full Hybrid) that can shatters the argument that ?larger cars equal to more fuel consumption? is this Honda.
Negative Points
Though it is off a high quality, there are rooms for improvements. For one is the choice of Yokohama Aspec-stock-tire and the thin soundproofing materials. After the scrub period over (about 5000km) the tire?s roar start to become more noticeable during high speed cruising. Although is tolerable (equivalent noise to Harrier or RX300) but it spoils the luxury image of premium car. Honda really needs to employ better audiologists to achieve the quietness ala Lexus LS400 sedan.
The rear door handle is also a tad too hard especially for small children. While most will use the remote control to open the auto doors, there will be times that someone needs to open manually.
The inflexibility of choosing the optional equipment and the auto inclusion thing is outrageously stupid.
Conclusion
This is a future car that is already available today. It gives a glimpse of a future of mainstream cars may expect in years ahead. It drives and handles like a big car rather than a van. It boasts rich features that hardly found in the car of its price range or even double of its price. When Honda said that they wanted to introduce a first-rated product, they succeed with flying colors. The Elysion shows that Honda is indeed the undisputable leader of cars? technology.
Buying and Maintance
After reading this and if you think finding the options configuration is too complex, fret not, because you can get all the possible combination and the estimated price by visiting Honda?s Japan cybermall at this site
http://slf.honda.co.jp/index.jsp
Since the inception in 2004, other than minor face-lift Honda also introduces value versions called special HDD Edition for the 2.4L G and a HDD AERO 3.0L VG model. The value version does not mean skimpy on the equipments. It is actually more equipment at cheaper prices albeit lesser flexibility on colors etc. It comes standard with Hardisk Navi option and 17 in wheel for the 2.4 L G model and additional fog light and full body kits on the 3L VG.
http://www.honda.co.jp/ELYSION/hddnaviedition/
Don?t be surprised to know that most PI?s (if not all) do not bring in models that offer most bang for your hard earn bucks. It is probably because there are too lazy to study the configuration vs price structure and to translate the Japanese catalogue. So mostly content to sell with the common set of spec that is not necessarily the best buy. Many PIs are also charging an outrageous amount for additional options. It varies between PIs but basically they are out to max their profit for those who are unaware. Cannot be faulted though
It is possible to save some money by buying PI?s car. However the saving comes with more homework. The buyers gotta be more resourceful. As a basic guideline, there is only approximately 3K-4K different between G AERO audioless version (commonly available specs) with the better equip G HDD edition. It is also possible to add around 3-4K to upgrade to a basic 3L VG model with 2 power doors with no smart card. So a 3L Elysion may be cheaper than the new 2.4LToyota Estima/Previa, how is that for a value buy?
Normally a tie-in warranty period is included when buying with PI. It requires the owners to service their cars at the appointed workshop with a compulsory regular interval. However the workshop normally does not accept owners to bring their own oil or parts, as that is where they make their money.
Finding body parts in the even of ?fatal accident? may be a challenge sometime. However the parts can be airfreight from Japan. Some insurance and credit card companies also provide a replacement car when the car in workshop.
Common engine parts, filters, bulbs etc for normal servicing can be easily obtain locally because it is a common practice by car manufactures to share their parts with various different models.
Future Upgrade/Facelift?
Honda has already indicated that they will be launching a minor change 300HP 3.5L i-VTEC VCM Elysion coming September 2006. This is to answer the competition raised by Toyota with its newly launch 280HP 3.5L VVTI engine found in various Lexus and New Estima. This model is known as Elysion Prestige.
However the improvement comes with a raised price and slightly more fuel sipping as the engine does not come with VCM (variable cylinder management). The engine is J35A found in Honda Legend.
A J30A 250HP 3L i-VTEC VCM is actually quite ideal for Singapore due to the tax structure and ability to sip fuel like 1.6L korean car.
-by mt88-