Dan888 wrote:Ok some updates on my car. This morning the problem comes back again. When moving off, the gear disengaged again for a while, and engages back again. Rpm reduces to around 500+rpm. I think the workshop mech tried his best already but my problem seems to come back on. Bro Jengwe is right, the solution is only temporary. When got time, I will contact him again to explore the possibilities.
I have the same problem that last for 1 year on my 2006 model. When move off from traffic light, the gear dis-enagged ( like on neutral gear) and engine roar when accelerate.. The second time on accerelatio, the car will jerk and move off.
I hope my problem is exactly the same with the talking point here... So far , none of workshops can solve the issue. Some propose change of ignition coil but so expensive and need to change 4 pcs.
Hope we can find a cure to benefits all here.. Keep sharing....
---
oi ngeh!
me same model still, COE bloody steep, but my pay doesn't inflate.
the faults you'd mentioned happened to my machine too. but i was fortunate, none of it struck me 4 years later after i bought it
i truly believe there's an issue with its gear box.
i'd tried using HMMF every change, engine oil grade 50. cleaning the throttle body thoroughly, it helps, engine bracket replacement helps too. grade 50 engine oil eliminates vibration slightly, compromises pick-up at red light. but FC still maintained healthy at 16 - 17 km/ L.
i wonder if flushing the GB would help. yet to try it. been tolerating the symptoms for about 2 yrs now. . .
people ask, why do i keep a safe following distance? so that others may do their lane changing ABRUPTLY. . .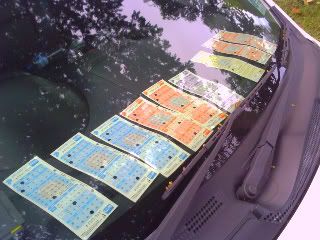 ---
Posts: 2
Joined: Wed Jan 11, 2017
Khim wrote:

Keanotobek wrote:guys,
Any recomendations for good and reliable workshop for me to sent my 06 Airwave.Im currently facing these issues on my ride.
1)car will jerk when stopping
2)car will vibrate
3)Rpm not consistance.It had even stalled once when moving off from a stationary position.
Any suggestion is welcome.thank you..

Hi bro, you can this workshop at ubi. This workshop manage to solve the problem within 1 day. I went to other workshop but they told mi is my gearbox faulty which cost few ks.

I went to Sin Hwee Motor, they solve it at only 100+. Now my wave is more responsive. Just to share with our fellow Airwave lover. Can try calling 97666672 and look for ah hui. I promise to promote for him...
Hi Airwavers,
I learnt about Ah Hui from this forum and my 2006 Honda Airwave had the similar problem. I went to several workshops and the only thing i hear from these mechanics was to have my gear box changed at a minimum fee of at least $1600++. I went to Sin Hwee Motor as recommended by Khim and looked for Ah Hui. I must testify that with only $90.00 he did some magic to my car and solved the problem. I have tested the car for about 2 months now and the car has no problem since then. Ah Hui, if your reading this forum, I would like to thank you for your great service. And also a BIG Thank You to Khim for recommending Ah Hui in this forum.
Cheers Xavier
---
---
Who is online
Users browsing this forum: No registered users and 0 guests