Connect with your social network account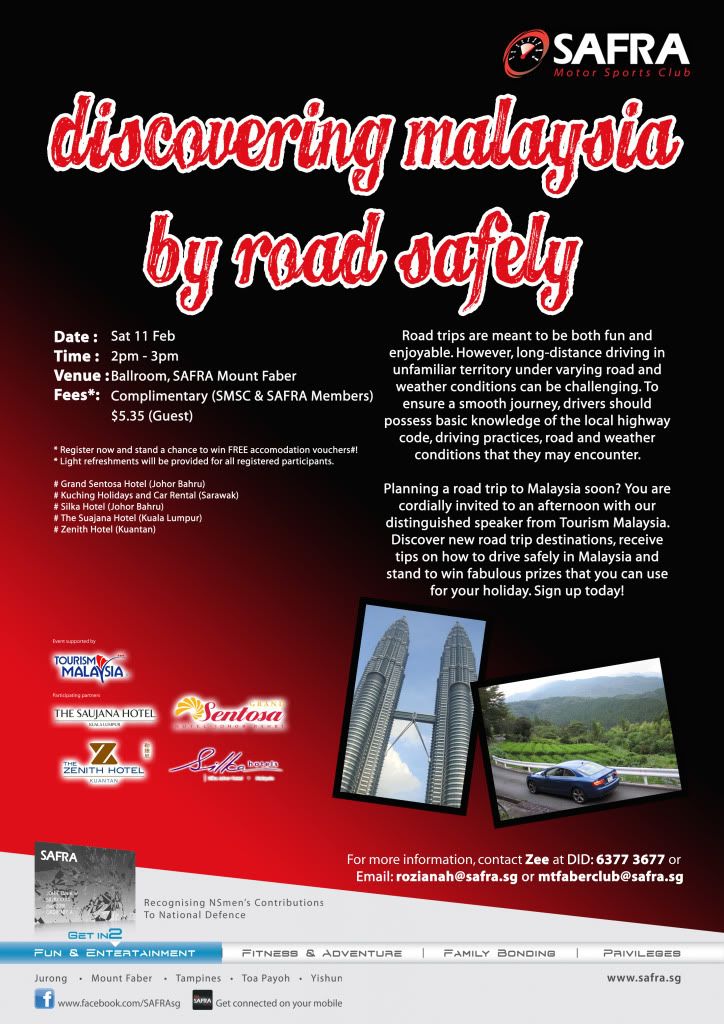 Dear friends, We sincerely invite you to join us.
Road trips are always fun and adventurous - the process of getting there and discovering things on the way. But long distance driving can be exhausting. It is necessary to plan driving schedule ahead to ensure that drivers are always alert and wary of any unexpected road conditions.
This talk helps foreign travellers to Malaysia understand the road signs used for safer driving and comfort. Come and spend your afternoon with speaker from Tourism Malaysia to find out more on safe driving in Malaysia.
Date: Sat 11 Feb
Time: 2pm - 3pm
Venue: Ballroom, SAFRA Mount Faber
Fees: $FOC (SMSC Member); $FOC (SAFRA Member); $5(Guest)
* Register now and stand a chance to win FREE accomodation vouchers#!
* Light refreshments will be provided for all registered participants.
Stand a chance to win FREE accomodation vouchers for the following hotels:
# Grand Sentosa Hotel (Johor Bahru)
# Kuching Holidays & Car rental (Sarawak)
# Silka Hotel (Johor Bahru)
# The Saujana Hotel (Kuala Lumpur)
# Senith Hotel (Kuantan)
For more details & registration form.... Please --------> CLICK HERE
http://www.smsc.sg/discovering_msia_by_rd_safely.pdf
---